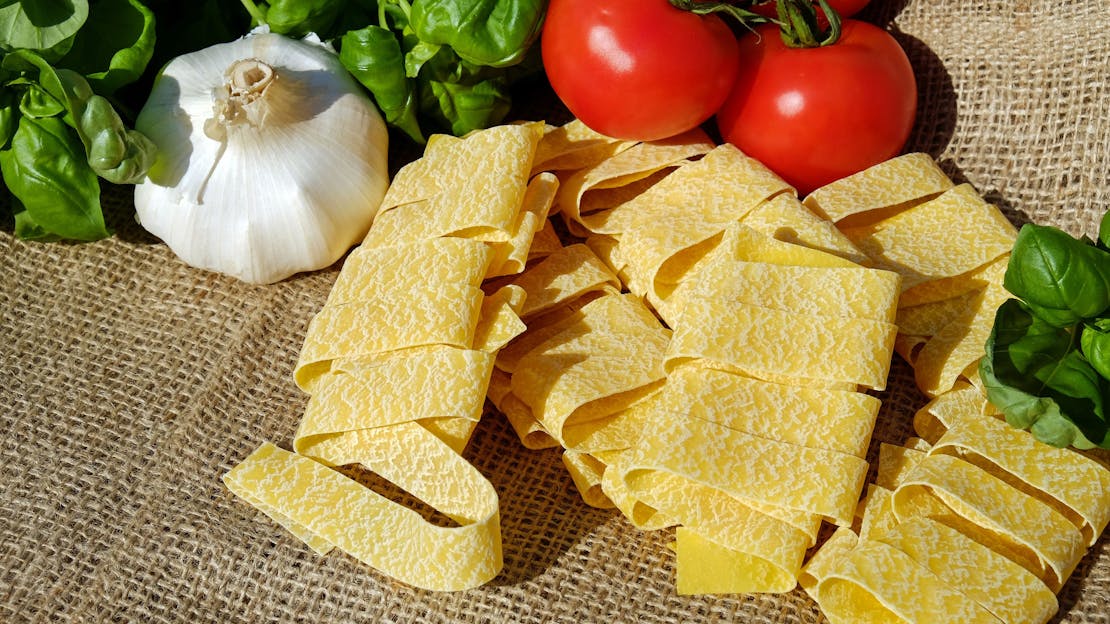 Comforting Pasta Dishes for Autumn
Autumn is here, which means you can look forward to cooking all your favourite comfort dishes to get you through the colder evenings – and when it comes to comfort food, we can't think of anything better than pasta.
There are so many pasta dishes to choose from, each one deliciously tempting in its own way. We've selected some of our top pasta dishes for you to dig into this autumn, featuring seasonal ingredient favourites like pumpkin, squash, mushrooms and more.
Read on…
Cauliflower Cheese and Greens Pasta Bake
Cauliflower cheese is a classic comfort food for a reason. Not only is it smothered in moreish cheese, but it's wholesome and filling and counts toward your five-a-day.

This cauliflower cheese and greens pasta bake takes regular cauliflower cheese (pictured above) and adds whole-wheat pasta to the mix for even more tasty and nutritious goodness. This recipe also features two types of cheese, as well as cauliflower leaves to give the dish some extra colour.
It's all baked in the oven for 10 minutes or so until it's golden and bubbling. Enjoy!
Creamy Pumpkin Pasta
Pumpkins can be enjoyed this season in far more than just lattes and pies. When puréed, their texture becomes creamy, which is perfect for combining with cheese and making a pasta sauce base.

Do give this creamy pumpkin pasta recipe a try. You'll mix blended pumpkin with tomato purée, milk and mascarpone to create a delightfully silky sauce, then pour it over short pasta of your choice. Season it all with parmesan, and you're ready to dig in.
Porcini Risotto
Autumn is the season of the porcini mushroom, whose distinctive earthy flavour has given it a prized spot in Italian cuisine. One such Italian dish is porcini risotto, a cosy meal often made and enjoyed in the autumn.
Try your hand at making your own porcini mushroom risotto. This recipe can be made in just under an hour, which includes the time needed to soak the porcini mushrooms. You'll also be cooking the risotto rice with the water used to soak the mushrooms, as it's packed with rich umami flavour.
Butternut Squash and Sage Macaroni Cheese
Macaroni cheese is another classic comfort food, one that's simple but can still be modified and elevated to your heart's desire. It's also an easy, vegetarian friendly meal you can serve up to the little ones.

This macaroni cheese recipe adds a healthy twist with its use of seasonal butternut squash, which, just like pumpkin, adds a creaminess to the dish. This macaroni cheese is also flavoured with a touch of sage, the ultimate autumn herb.
Creamy Mushroom, Sprout and Chestnut Pasta Bake
We're ending this list with another delicious and comforting pasta bake dish, one that's also generous with the mushrooms and wonderful to dig into during the cooler days.
Creamy, nutty and bursting with texture and flavour, this mushroom, sprout and chestnut pasta bake is warming and filling. The recipe calls for both chestnuts and chestnut mushrooms, as well as brussels sprouts, parmesan and mozzarella and herbs like thyme and freshly ground nutmeg.