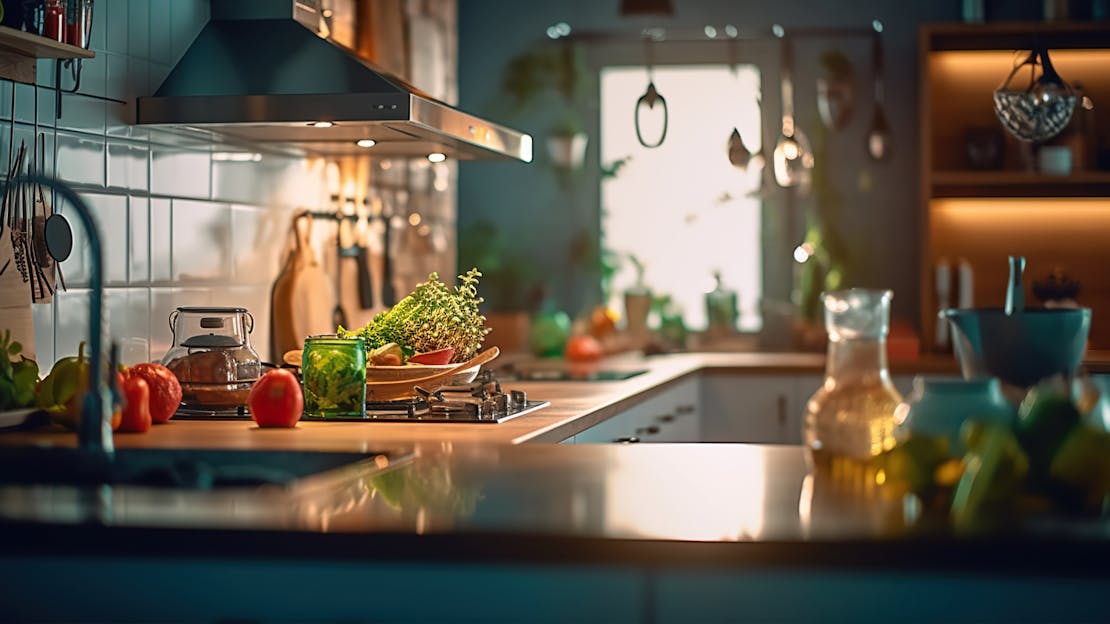 Cooker Hoods Explained – The Ultimate Guide To Ventilating Your Kitchen
In this comprehensive guide, we will delve into the importance of proper kitchen ventilation and provide you with all the essential information you need to create a clean, comfortable, and healthy cooking environment. Whether you're a cooking enthusiast, a busy home cook, or simply someone looking to improve the air quality in your kitchen, this guide will walk you through the benefits of kitchen ventilation, different types of ventilation systems, key considerations for choosing the right solution, installation tips, and maintenance guidelines. Get ready to transform your kitchen into a well-ventilated space that enhances your cooking experiences and promotes overall well-being.

Is ventilating your kitchen necessary?
Ventilating your kitchen is essential for a variety of reasons. First and foremost, it helps to eliminate unpleasant odours that can linger after cooking. Whether you're frying, using aromatic spices, or preparing pungent ingredients, these odours can quickly spread throughout your home. Proper kitchen ventilation effectively removes these odours, keeping your kitchen and the rest of your house smelling fresh and inviting.
In addition to odour removal, ventilation plays a crucial role in eliminating smoke and steam generated during cooking. When using high-heat methods like frying or grilling, smoke can quickly fill the kitchen. Without a reliable ventilation system, this smoke can trigger smoke alarms and create an uncomfortable and potentially hazardous environment. By effectively removing smoke and steam, ventilation ensures a clear and safe space for cooking.
Another important benefit of kitchen ventilation is moisture control. The act of cooking, boiling, and washing dishes generates a significant amount of moisture in the kitchen. Without proper ventilation, this excess moisture can lead to the growth of mould and mildew. These fungi not only pose health risks but can also damage surfaces and materials in your kitchen. By adequately ventilating your kitchen, you can prevent moisture build-up and maintain a clean and healthy environment.
Furthermore, ventilation contributes to improved indoor air quality. Cooking produces various pollutants, including cooking fumes and volatile organic compounds (VOCs). These pollutants can negatively impact the air quality in your home, potentially leading to respiratory issues and other health concerns. A well-functioning ventilation system effectively removes these pollutants, ensuring a healthier living environment for you and your family.
Lastly, proper kitchen ventilation helps dissipate heat generated during cooking. By removing excess heat from the kitchen, ventilation prevents the space from becoming uncomfortably hot. This, in turn, reduces the strain on your cooling systems and contributes to energy efficiency.
Considering these important factors, it is evident that proper kitchen ventilation is necessary to maintain a clean, comfortable, and healthy cooking environment. Whether through the use of a range hood, extractor fan, or other ventilation systems, ensuring adequate airflow in your kitchen is highly recommended.
Should I choose an extraction or recirculation cooker hood?
The choice between an extraction or recirculation cooker hood depends on various factors and individual preferences. Here's a breakdown of both options to help you make an informed decision:
Vented Cooker Hood
A vented cooker hood works by extracting air from the kitchen and expelling it outside through ducting or a vent. It effectively removes smoke, odours, and moisture from the cooking area, providing efficient ventilation. Extraction hoods are ideal if you have access to external ventilation, such as a chimney or an external wall, as they help to maintain a fresh and clean kitchen environment.
Advantages of Vented Cooker Hoods:
Effective removal of smoke, odours, and moisture.

Maintains better indoor air quality.

Suitable for kitchens with external ventilation options.
Recirculation Cooker Hood
A recirculation cooker hood filters the air and recirculates it back into the kitchen. It uses filters, such as charcoal filters, to capture grease, odours, and other impurities before releasing the filtered air back into the room. Recirculation hoods are a suitable option when external ventilation is not available or difficult to install.
Advantages of Recirculation Cooker Hoods:
No need for external ventilation or ducting.

Easier installation in kitchens without access to external vents.

Can be more energy-efficient as they don't expel conditioned air from the home.
It's important to note that recirculation hoods may not be as effective in removing smoke and moisture as extraction hoods. They primarily focus on capturing and filtering odours and grease particles. However, advancements in technology have led to improved performance in recirculation hoods, making them a viable option for many kitchens.
In summary, if you have access to external ventilation, an extraction cooker hood is generally recommended for efficient removal of smoke, odours, and moisture. However, if external ventilation is not possible or difficult to install, a recirculation cooker hood can be a suitable alternative for capturing and filtering odours and grease particles. Consider your kitchen's specific requirements, installation feasibility, and personal preferences to make the right choice for your needs.
What types of cooker hoods are available?
There are several types of cooker hoods available, each designed to suit different kitchen layouts and preferences.
One common type is the chimney cooker hood, which is mounted on the wall above the cooking area. It features a chimney-like structure that extends vertically to the ceiling, effectively extracting smoke and odours. Chimney cooker hoods are popular due to their stylish design and versatility.
For kitchens with a cooking island or peninsula, island cooker hoods are the ideal choice. These hoods are installed directly above the cooking surface, hanging from the ceiling to provide effective ventilation in open kitchen layouts.
Built-in cooker hoods, also known as integrated or canopy cooker hoods, are concealed within a cabinet or canopy above the hob. They offer a seamless and discreet ventilation solution, maintaining a streamlined look in the kitchen.
If you prefer a unique option, downdraft extractor hoods might be suitable. These hoods are integrated into the kitchen countertop behind the cooking surface. When in use, the hood rises up to extract smoke and fumes, then retracts back down, remaining flush with the countertop.
Another option is the angled cooker hood, which features a tilted glass or metal panel. The angled design provides an inclined surface for capturing smoke and fumes, ensuring efficient extraction. Angled hoods often have a contemporary and sleek appearance.
Visor cooker hoods are typically found in compact kitchens. They are mounted on the wall above the hob and feature a visor-like design that can be pulled out to increase the extraction area when in use.

These are just a few examples of the various types of cooker hoods available. Each type offers different features, installation options, and styles, allowing you to select the one that best suits your kitchen layout and personal preferences.
Should I buy a smart cooker hood?
Deciding whether to choose a smart cooker hood is a personal choice based on factors like convenience, advanced features, energy efficiency, integration with a smart home ecosystem, and budget. Smart cooker hoods offer remote control, enhanced functionality, energy-saving features, and integration with other smart devices. However, they tend to be more expensive compared to traditional models. Consider your needs and preferences to determine if the added convenience and features of a smart cooker hood align with your kitchen requirements and justify the cost.
Planning to replace your kitchen extractor? Explore our range today, where you can now enjoy options for complimentary and prompt shipping!
Cooker Hood Buying Guides - Helping you choose the right cooker hood
With your brand new oven and hob in place, completing your amazing kitchen setup requires a sleek cooker hood. However, with the overwhelming array of options available, finding the perfect one can be challenging. Our comprehensive guide will empower you with knowledge about all things cooker hoods, boosting your confidence when making the right selection.
From understanding the different types and features to exploring installation options and maintenance tips, this comprehensive guide will equip you with the knowledge to transform your kitchen into a truly captivating and odour-free haven.

Within this comprehensive guide, we will delve into the various types, features, installation options, and maintenance tips for integrated cooker hoods, enabling you to make an informed choice and enhance your kitchen into a fresher, more enjoyable environment.

Easily attached to the ceiling and located in the centre of your kitchen, our island cooker hoods here at MyAppliances make a real statement in your home.

Looking for a designer cooker hood? You've come to the right place! Our sleek yet stylish cooker hoods offer all the features you'd expect from a luxury item like this, without the luxury price tag.

Our Chimney Cooker Hoods can make a great focal point in your kitchen and really add some flare, with a great choice of colours and sizes.

Our Curved Glass Cooker Hoods provide a stylish and practical addition to your kitchen. Available in a wide range of sizes, these hoods will look cool in any location.

Our Angled Glass Cooker Hood design enables you to maximise the space available in your kitchen. Available in a wide range of sizes and colours this hood offers performance and quality at affordable prices.

In this comprehensive guide, we'll explore different types, materials, benefits, and installation processes, empowering you to make informed choices and enhance the beauty and functionality of your home with splashbacks.