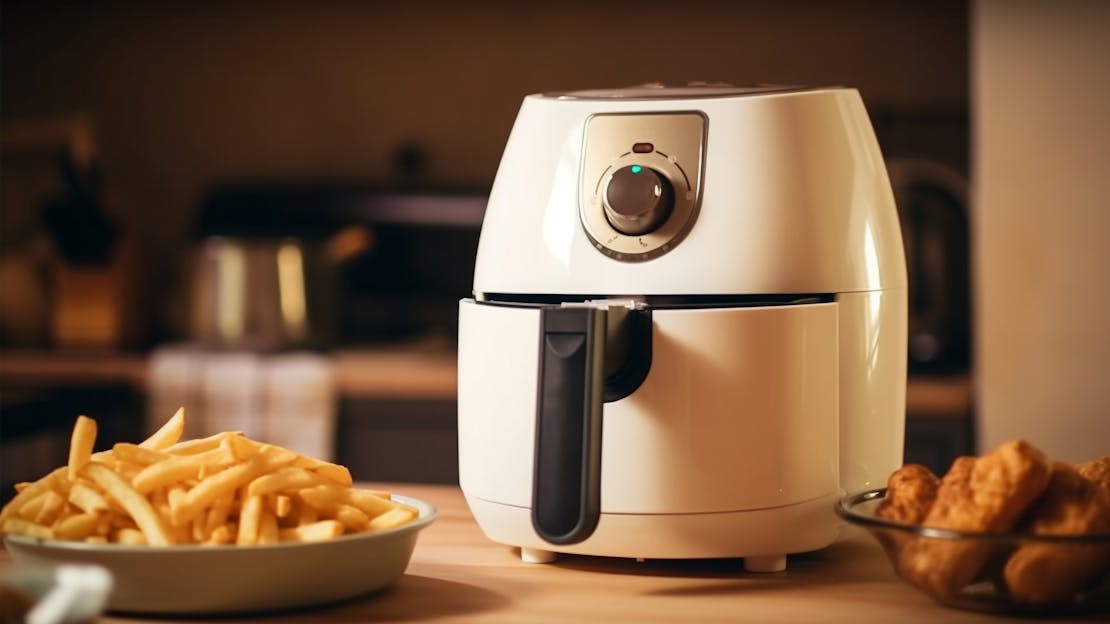 Small Kitchen Appliances: A Guide
Seeking a minimalist kitchen? If you're keen to introduce some smaller appliances to your space – such as air fryers and hotpots – this handy guide weighs up the pros and cons of portable kitchen gadgets like these. Read on…

Portable Grill
Whether you have a small space or simply want to keep a less cluttered worktop, a portable grill could be a great option for your kitchen. Of course, you can take it with you when you're due to stay in holiday accommodation that doesn't come equipped with a full kitchen, too.
There are lots of benefits to portable grills. They are available in a range of styles and the most renowned is probably the George Foreman brand. With a new premium look, the Small Fit Grill, for instance, has a space-saving design and heats up 160 per cent faster than previous versions. This means you can enjoy freshly cooked food, from switch on to plate, in around six minutes (this is versus a conventional electric oven grill, set at 230 degrees).
How does it differ from our cheapest single oven, though?
Well, while you can't take our Econolux ART28769 60cm conventional electric oven with you when you go away (well, you could try!), you'll certainly get a lot more in it than you would in a portable grill.

Chuck a few burgers in a portable grill and it's likely to already be full to the brim. This four-function oven, though, has an impressive capacity of 65 litres, meaning you'll have plenty of room to cook a full, family meal.

It comes with a wire shelf and a grill pan, and you can fit additional shelves (available to purchase) in it too, creating even more space to cook your evening meal.
Hotpot
Got your eye on an electric hotpot? Making light work of everything from soups to stir fries (and a big hit if you like Chinese food in general), portable hot pots take up less space than your hob (well, of course!) – and, like the portable grill, can be transported anywhere.
Many of the hotpots out there are made from stainless steel, allowing the pot to heat up quickly. They're lightweight, too – and often dishwasher-safe.
There are plenty of pros, but what about cons? Well, you can't always sauté your food directly in the pot. Instead, you must do this first on a hob and then add your ingredients into the hotpot to heat – but always check with the instructions for the hotpot you have your eye on.

Plus, again, you're usually not going to get as much food in a standard-sized hotpot. If you're going to go big and get a huge, family-sized one, you may as well choose an integrated, oven (and a hob) which fits seamlessly into your space. But again, these kinds of gadgets are handy if you're heading on a staycation.
Air Fryer
Ah, the humble air fryer – many a friend or family member has probably chewed your ear off about how good they are. So, is an air fryer really worth the money? The answer is 'yes' and 'no.
Air fryers – the Ninja version being the most recognisable brand – use no oil and, therefore, can cook your food in a healthier way than, say, frying it on a hob. A big, fat 'yes' for those who are following a healthier regime.
Air fryers tend to cook food quicker too and, over time, they can work out more energy efficient (and therefore cost-efficient). But we're really talking about quite some time here.
They'll cook your food well – and in some cases, it may even taste better than it does when fried on the hob (we'd like to think it's because we've used less oil, though). That said, if you're someone who buys every kitchen gadget going, only to stop using it mere weeks in and relegating it to the depths of the cupboard, an air fryer might not be the best choice for you. Especially if you're looking for a space-saving solution in the first instance.
Sure, it's a healthier alternative to frying on the hob but, depending on what model you go for, it could prove an unnecessary expense if your default cooking method turns out to be your hob after all. Get your use out of it, though, and it'll be worth the money.
Do you own any of the appliances above? Let us know by commenting below. Tell us, too: what are your thoughts on the pros and cons of portable grills, hotpots and air fryers?
Until next time…