Which Type of Cooker Hood is Best?
The cooker hood: It's not just an appliance; it's a guardian of your kitchen's atmosphere, keeping it free from smoke, odours, and excessive moisture. But with a plethora of types on the market, how do you discern which is the optimum choice? Let's dive deep into the world of cooker hoods, examining each type, their pros, cons, and ideal settings.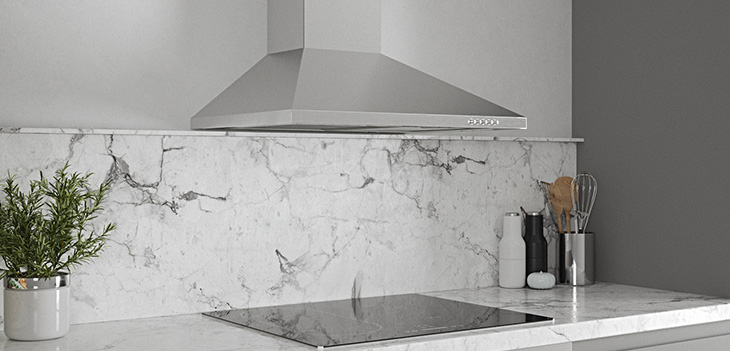 These prominent and often stainless-steel fixtures are designed to be mounted on the wall above your hob.
Pros:
Efficient at extracting fumes, especially in larger kitchens.
Available in various sizes and designs to fit the aesthetics of many kitchens.
Typically come with powerful fans, making them suitable for heavy-duty cooking.
Cons:
They can take up significant space and might dominate smaller kitchens.
Installation can be slightly more complex due to their size and weight.
Ideal for: larger kitchens with the hob positioned against a wall. Perfect for those wanting a blend of performance and modern aesthetics.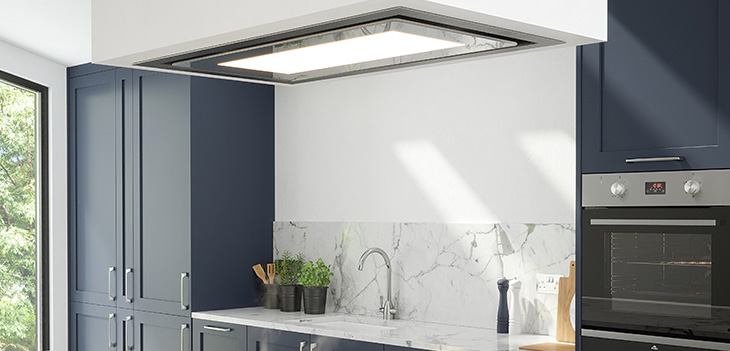 Suspended from the ceiling, these hoods are tailored for kitchens with a central island hob.
Pros:
Provides 360° extraction, capturing smoke and steam from all angles.
Can act as a statement piece in open-plan kitchens, given their central positioning.
Often equipped with extra features like ambient lighting.
Cons:
Typically more expensive due to their design and additional features.
Require more robust ceiling support and careful installation.
Ideal for: Spacious kitchens with a central island. Those seeking a blend of function and form, especially in open layouts.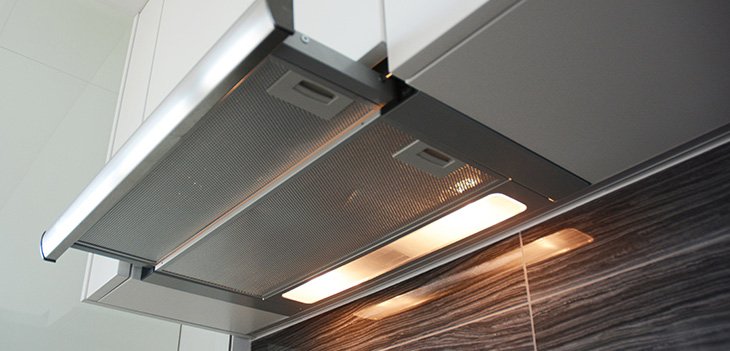 Seamlessly built into kitchen cabinets, these hoods provide a streamlined look.
Pros:
Discreet and blend well with kitchen cabinetry.
Efficient for standard cooking needs.
Often quieter due to their integrated nature.
Cons:
Might not be powerful enough for heavy-duty cooking or larger kitchens.
Limited in design variations since they're meant to be hidden.
Ideal for: Smaller to medium-sized kitchens or for those prioritising aesthetics and a seamless kitchen design.
A more modern option, these are integrated into the countertop and rise only when needed.
Pros:
Extremely discreet; invisible when not in use.
Positioned close to the hob, they can be highly effective despite their size.
Cons:
Complex installation, often requiring modifications to kitchen counters.
Might not achieve the extraction power of larger, traditional hoods.
Ideal for: Ultra-modern kitchens, those limited on wall space or desiring minimalist aesthetics.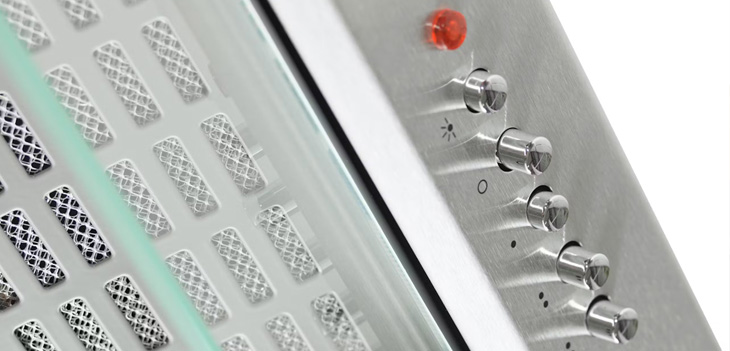 Compact and fitted directly to the wall, they're one of the simpler options available.
Pros:
Space-saving, perfect for smaller kitchens.
Budget-friendly compared to some other types.
Cons:
Limited extraction capabilities.
Basic in terms of design and features.
Ideal for: Smaller kitchens, studio apartments, or those on a budget.
Conclusion:
The best cooker hood for your kitchen hinges on multiple factors: the size and layout of your space, your cooking habits, aesthetic preferences, and budget. Armed with a deep understanding of each type, you're now equipped to make an informed decision that marries function with design, ensuring a harmonious and efficient kitchen environment. Remember, the best hood is the one that meets your unique needs while seamlessly integrating with your kitchen's character.

Cooker Hood Buying Guides - Helping you choose the right cooker hood
With your brand new oven and hob in place, completing your amazing kitchen setup requires a sleek cooker hood. However, with the overwhelming array of options available, finding the perfect one can be challenging. Our comprehensive guide will empower you with knowledge about all things cooker hoods, boosting your confidence when making the right selection.
From understanding the different types and features to exploring installation options and maintenance tips, this comprehensive guide will equip you with the knowledge to transform your kitchen into a truly captivating and odour-free haven.

Within this comprehensive guide, we will delve into the various types, features, installation options, and maintenance tips for integrated cooker hoods, enabling you to make an informed choice and enhance your kitchen into a fresher, more enjoyable environment.

Easily attached to the ceiling and located in the centre of your kitchen, our island cooker hoods here at MyAppliances make a real statement in your home.

Looking for a designer cooker hood? You've come to the right place! Our sleek yet stylish cooker hoods offer all the features you'd expect from a luxury item like this, without the luxury price tag.

Our Chimney Cooker Hoods can make a great focal point in your kitchen and really add some flare, with a great choice of colours and sizes.

Our Curved Glass Cooker Hoods provide a stylish and practical addition to your kitchen. Available in a wide range of sizes, these hoods will look cool in any location.

Our Angled Glass Cooker Hood design enables you to maximise the space available in your kitchen. Available in a wide range of sizes and colours this hood offers performance and quality at affordable prices.

In this comprehensive guide, we'll explore different types, materials, benefits, and installation processes, empowering you to make informed choices and enhance the beauty and functionality of your home with splashbacks.