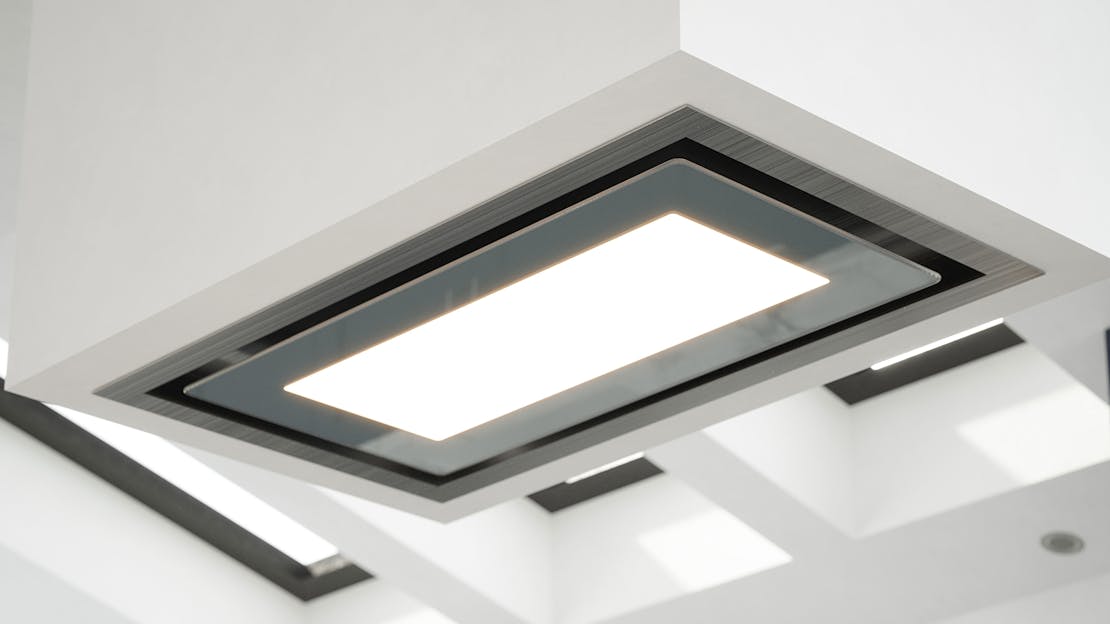 Island Cooker Hood Buying Guide
Easily attached to the ceiling and located in the centre of your kitchen, our island cooker hoods here at MyAppliances make a real statement in your home. Stunningly designed to offer a range of convenient features, these cooker hoods are simple to use and offer excellent value for money. Find out more about them in our buyers' guide below.
What sizes are available?
If what you need is an island cooker hood then we have a range of stylish ones in different sizes to suit any kitchen. Sizes include: 40cm, 50cm, 74cm, 90cm, 100cm.
Perfectly complementing your kitchen, island cooker hoods like these offer unbeatable value and a great guarantee - ideal for added peace of mind.
What colours are available?
Our island cooker hoods are sleek and contemporary and look great as well as perform fantastically. Add the wow factor to your kitchen space in an instant, thanks to appliances like this which offer value and performance.
Depending on the style of island cooker hood you want we have a range in various colours finishes including, stainless steel, white, black glass and silver mirror.
How does the appliance perform?
Our island cooker hoods generally have a higher extraction rate due to the sleek design - however we can maintain airflow without compromising performance due to efficient design. Extraction rate is the rate the hood pulls air from the immediate area under the hood - it is quoted in cubic metres per hour (m3/hr) and the higher the extraction rate, the more air can be filtered during use.
Our island cooker hoods extraction ratings range from 740 to 790 m3/hr depending on the style and design of your chosen hood.
We quote maximum noise level when the hood is running at maximum output which for these hoods ranges from 59 to 65 dB.
Our island cooker hoods have a number of fan speeds from 3 to 5 different variations.
How is the appliance installed?
As with all appliances bought right here on the site, installation is simple and completely fuss-free. However, do be aware that it should always be carried out by an electrician and there's a handy guide available with your appliance.
These island cooker hoods can either be vented to the outside using a ducting kit or used in recirculation mode using carbon filters. However, please do check your chosen hood's specifications for more detail on what you can use.
Cooker Hood Buying Guides

From understanding the different types and features to exploring installation options and maintenance tips, this comprehensive guide will equip you with the knowledge to transform your kitchen into a truly captivating and odour-free haven.

Cooker Hood Buying Guides

Within this comprehensive guide, we will delve into the various types, features, installation options, and maintenance tips for integrated cooker hoods, enabling you to make an informed choice and enhance your kitchen into a fresher, more enjoyable environment.

Cooker Hood Buying Guides

Looking for a designer cooker hood? You've come to the right place! Our sleek yet stylish cooker hoods offer all the features you'd expect from a luxury item like this, without the luxury price tag.

Cooker Hood Buying Guides

Our Chimney Cooker Hoods can make a great focal point in your kitchen and really add some flare, with a great choice of colours and sizes.

Cooker Hood Buying Guides

Our Curved Glass Cooker Hoods provide a stylish and practical addition to your kitchen. Available in a wide range of sizes, these hoods will look cool in any location.

Cooker Hood Buying Guides

Our Angled Glass Cooker Hood design enables you to maximise the space available in your kitchen. Available in a wide range of sizes and colours this hood offers performance and quality at affordable prices.