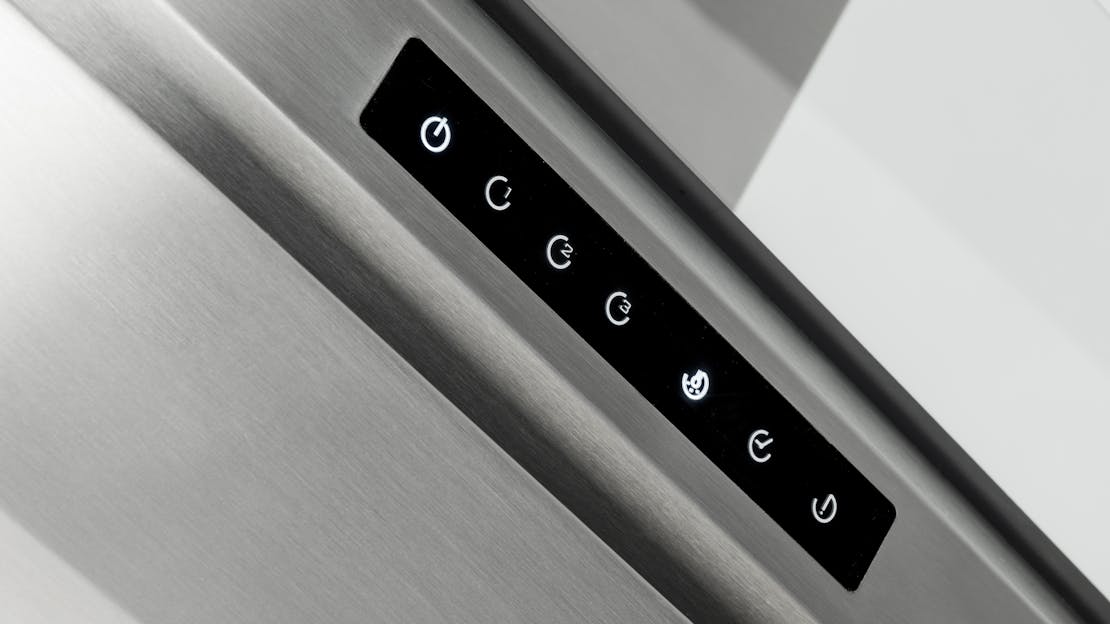 Designer Cooker Hood Buying Guide
Looking for a designer cooker hood? You've come to the right place! Our sleek yet stylish cooker hoods here at MyAppliances offer all the features you'd expect from a luxury item like this, without the luxury price tag. With buttons conveniently situated on the front of the hood to make using our appliances quick and easy, this is a well-designed product which will perfectly complement your kitchen. Quietly purifying the air in your kitchen while offering illumination for your food preparation space, these extractors are a great choice. Complete your kitchen with one of these sturdy cooker hoods and put the enjoyment back into cooking.
What sizes are available?
Featuring a curved design to add interest to your kitchen, our 60cm-wide designer cooker hood is a huge hit with our customers. Looking for something else? We have 60cm, 80cm and 90cm designer cooker hoods in a range of styles, from modern crisp white models to silver finished spherical cooker hoods - they provide a real feature for any kitchen.
We have a range of stylish designer cooker hoods that are sure to be the talking point of your kitchen. Sizes vary depending on the shape of designer hood you choose which include curved glass hoods at 60cm, 70cm, and 90cm. Our angle glass designer hoods are all 90cm however vary in design so you can choose what would best suit your kitchen. We have extremely stylish chandelier island hoods of all different shapes at 40cm, 50cm and 74cm. Our circular glass hood is 80cm and the ceiling hood is 100cm.
Whatever size your kitchen is, we can provide you with a sleek hood to wow your family and friends with.
What colours are available?
Available here on the site in a range of sleek shades, our designer cooker hoods effortlessly slot into any interiors scheme. Add one to a traditional home or a contemporary-styled apartment for instant wow factor.
Colours include: black glass, black/grey glass, white glass, white, stainless steel, silver mirror finish.
How does the appliance perform?
Our designer cooker hoods generally have a higher extraction rate due to the sleek design - however we can maintain airflow without compromising performance due to efficient design. The extraction rates range from 740 to 790 m3/hr.
The fan speeds range from 3 to 10 depending on the style you go for.
We quote maximum noise level when the hood is running at maximum output which for the designer hoods range from 59 to 68 dB.
How is the appliance installed?
This simple-to-install appliance will be mounted on the wall above your hob, most often via four fixings provided in a handy kit. The good news is it's an extremely simple and quick process to ensue your new hood runs efficiently.
You will either be able to use carbon filters or a ducting kit however please do check the specification on your chosen cooker hood to see which is suitable as they do vary.
Cooker Hood Buying Guides

From understanding the different types and features to exploring installation options and maintenance tips, this comprehensive guide will equip you with the knowledge to transform your kitchen into a truly captivating and odour-free haven.

Cooker Hood Buying Guides

Within this comprehensive guide, we will delve into the various types, features, installation options, and maintenance tips for integrated cooker hoods, enabling you to make an informed choice and enhance your kitchen into a fresher, more enjoyable environment.

Cooker Hood Buying Guides

Easily attached to the ceiling and located in the centre of your kitchen, our island cooker hoods here at MyAppliances make a real statement in your home.

Cooker Hood Buying Guides

Our Chimney Cooker Hoods can make a great focal point in your kitchen and really add some flare, with a great choice of colours and sizes.

Cooker Hood Buying Guides

Our Curved Glass Cooker Hoods provide a stylish and practical addition to your kitchen. Available in a wide range of sizes, these hoods will look cool in any location.

Cooker Hood Buying Guides

Our Angled Glass Cooker Hood design enables you to maximise the space available in your kitchen. Available in a wide range of sizes and colours this hood offers performance and quality at affordable prices.